Thought for the Week
by: Senior Pastor Barry Yates

05/15/2013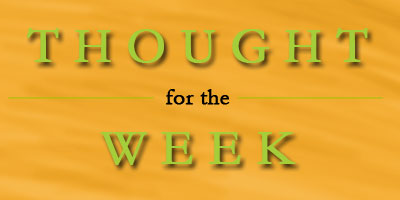 Friends
This coming Sunday is the last message in the series called "We are the Body." The main goal of this series is to get you to totally commitment your life to Jesus Christ!
What is total commitment? Total commitment means that Jesus Christ is Lord in every area of our lives. He must be Lord on Saturday night as well as Sunday morning. He must be Lord of our bodies as well as our brains. He must be Lord of what we save as well as what we sacrifice. He must be lord of our careers as well as our creed. He wants you to connect to the local church. What is keeping you from selling out 100% to Christ? I want to share with you one thing I think is causing many people not to totally commit. It is a myth that many Christians have bought into.
The myth: People have been told it is POSSIBLE to make a commitment to Christ apart from a commitment to the church. The truth is you cannot be the Christian that God has called you to be, without being a part of the church.
The reality is simple:
●To IDENTIFY your life with the person of Christ is to join your life with the people of Christ. John 13:34 NIV "I'm giving you a new commandment: Love each other in the same way that I have loved you.
●To SURRENDER your life to His commands is to commit your life to His church. Acts 2:44 GWT: "All the believers kept meeting together, and they shared everything with each other.
•To Paul, being a "MEMBER" of the church meant being a vital organ of a living body.
●It is biblically, spiritually, and practically impossible to be a follower of Christ apart from the family of Christians. 1 John 4:20 GWT: "People who don't love other believers, whom they have seen, can't love God, whom they have not seen."
●We are better TOGETHER. Romans 12:10 GWT: "Be devoted to each other like a loving family."
Every believer needs to be an active part of the church, because it is in the church that we learn about God together. It is in the church that we worship together. It is in the church that we find accountability to one another. It is in the church that we discover and use our spiritual gifts. It is in the church that we come together to celebrate the gift God gave us when He sacrificed His only Son. You cannot have a party of one. You cannot be the Christian that God has called you to be, without being a part of the church.
●We are WITNESSESS to the world. John 13:35 NLT: "Your love for one another will prove to the world that you are my disciples."
The church is God's instrument to deliver the message of transformation to our communities and to the world. In the Bible we see that God's favor rests on the church, and that He has made His commitment to the church in the form of His covenant, so we (you and I) have to invest wherever God has His focus.
Do you want to be fully engaged and empowered to live the Christian life? More than likely, you do! Yet far too many followers of Christ in our world today are disconnected from one of the main sources of empowerment: the local church!
The reasons for this are many, but the fact is, many many believers are not having the impact they could have for Christ because they are trying to live the Christian life in isolation… cut off from a local group of other learning, growing Christians.
What about you? Are you actively involved in church? Now, please know that I am not simply asking whether or not you attend church. Because truly being spiritually engaged means so much more than showing up at church every Sunday morning. It's about whether or not you have plugged into the church of Jesus Christ in order to become a part of transforming our culture.
Just like a balled-up fist has more power than one puny finger, so too do you and I have more power as Christians when we stand in unity under the banner of Christ. A church united truly is a force to be reckoned with in our generation! Read Acts 2:44-47 NLT "And all the believers met together constantly and shared everything they had. They sold their possessions and shared the proceeds with those in need. They worshiped together at the Temple each day, met in homes for the Lord's Supper, and shared their meals with great joy and generosity -- all the while praising God and enjoying the goodwill of all the people. And each day the Lord added to their group those who were being saved."
In the passage, we read about people who were fully engaged and committed to each other, and therefore empowered to live the Christian life. They turned the world upside down!
The Book of Acts is a story of ordinary men and women who did extraordinary things because they allowed God to have His way in their lives. In the same way, God wants to use you to turn your world upside down for Christ.
It starts with you saying, "Lord, I want to make a difference. I don't want this world to turn me around. I want to turn it around. Use me"!
The world has yet to see what God can do with and through the man or woman who is totally committed to Him. Will God find such people today? I wonder if you would say, like the great D. L. Moody, "I want to be that person."
How to be that person!
•We Must Study God's Word
James 1:18-27 NIV
• We Must Pray
Matthew 26:31-75 NIV
•We Must Fellowship with Other Christians
1 Corinthians 12:12-27 NIV
• We Must Witness for Christ
Acts 26:12-29 NIV
• We Must Obey God
Romans 6:14-23 NIV
If you will; then your life can make a difference. It will be exciting in the days ahead to see what God will do through and with you. But He wants you to be available to Him.
One of these days, your life will come to an end. What will you say of your life? What will others say?
How great it would be to say, like Paul, "I have fought a good fight, I have finished the race, and I have remained faithful" (2 Timothy 4:7 NKJV).
Are you totally commitment to Christ? You are the only one who can answer that! I pray your answer is YES!
Make Every Day Count!
Barry
See you Sunday! Please bring someone with you who needs to be in church.